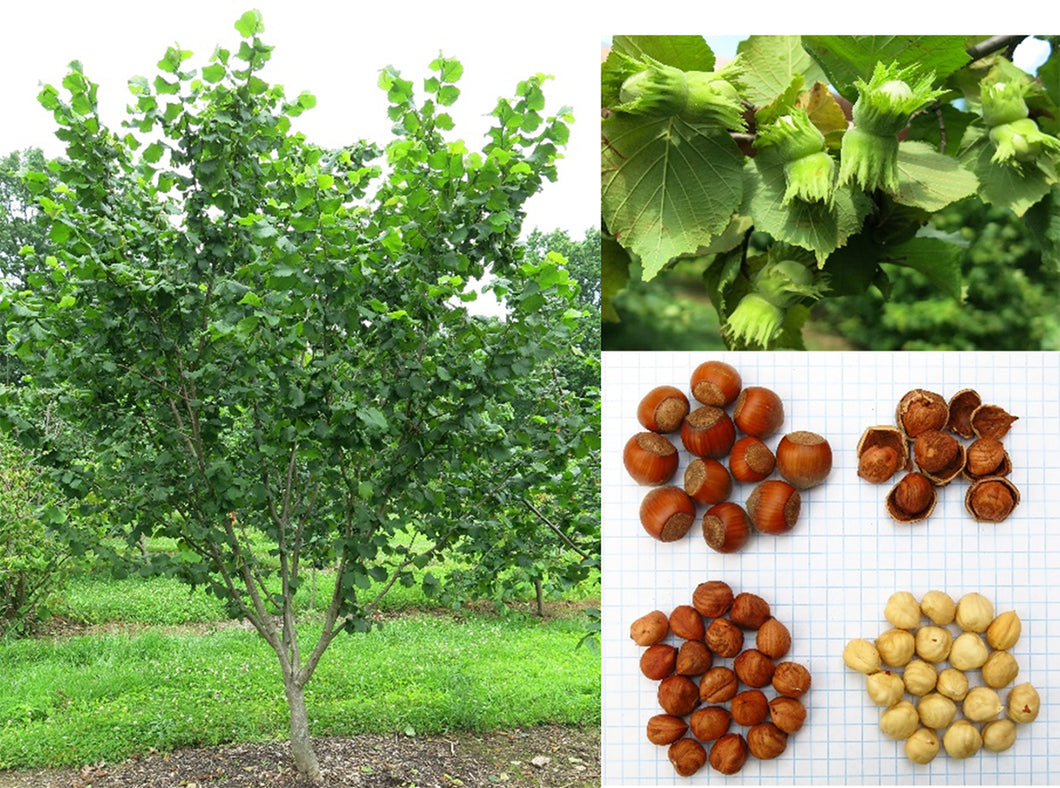 Hunterdon Hazelnut Cultivar - Bare Root- Spring ship
Regular price $24.00 Sale
Hunterdon is a patented cultivar - US PP32461 P2, from the Rutgers breeding program lead by Thomas Molnar PhD.   
A cross of 'Sacajawea' x Oregon State University selection OSU 616.055, it is a high yielding tree with mostly round, medium to large size kernels (some slightly oblong [<25% of the kernels]) that blanch exceptionally well after roasting, making it best suited for the kernel market. Most kernels are 12–14 mm in diameter with an average weight of 1.23 grams and 46% kernel by weight. In addition to excellent blanching, its kernels are noted for outstanding flavor.
'Hunterdon' is a vigorous, upright tree with a slightly spreading growth habit and can be over 20 feet tall at 15 years, and with a high level of tolerance to EFB, though slightly less than 'Raritan' and 'Monmouth' (quantitative resistance). It has S-alleles 1 and 3 with 3 expressed in the pollen, and blooms in early to mid-season in New Jersey. 'OSU 541.147' (S8S23), 'Gene' (NY398) (S15S23), 'Grand Traverse (S11S25) and NITKA (S5S17) are compatible pollinizer partners.
Nuts typically drop from the end of August to first week in September in New Jersey.
 For orchard design please see the latest version of the "The Hazelnut and Chestnut Handbook" by Jeff and Dawn Zarnowski. Also, Dr. Molnars winter newsletter here.
Please read our blog page to learn more about seedlings and our cultivars that we sell.
Trees are tissue cultured and can range from 5" to 20" tall.  Please follow planting instructions. 
Please see our presentation on different cultivars that are or are becoming available to learn more Here.
We ship mid-April to early June dormant and bare root.     We cannot ship to the west coast states.  We cannot ship to Canada for small orders.
Reminder a "cultivar" is a clone of the parent tree and performs just like the parent as it is the one and same genetics.  Whereas, "seedlings" are just like children, it inherits traits from both parents and what traits are expressed we learn as it matures.
Plants with a patent or a PPAF (Plant Patent Applied For) asexual reproduction is prohibited.
For tax exempt orders please email info@znutty.com with the desired quantity and your ship too address.  We give discounts for quantity orders.    Pricing already includes Royalty cost.