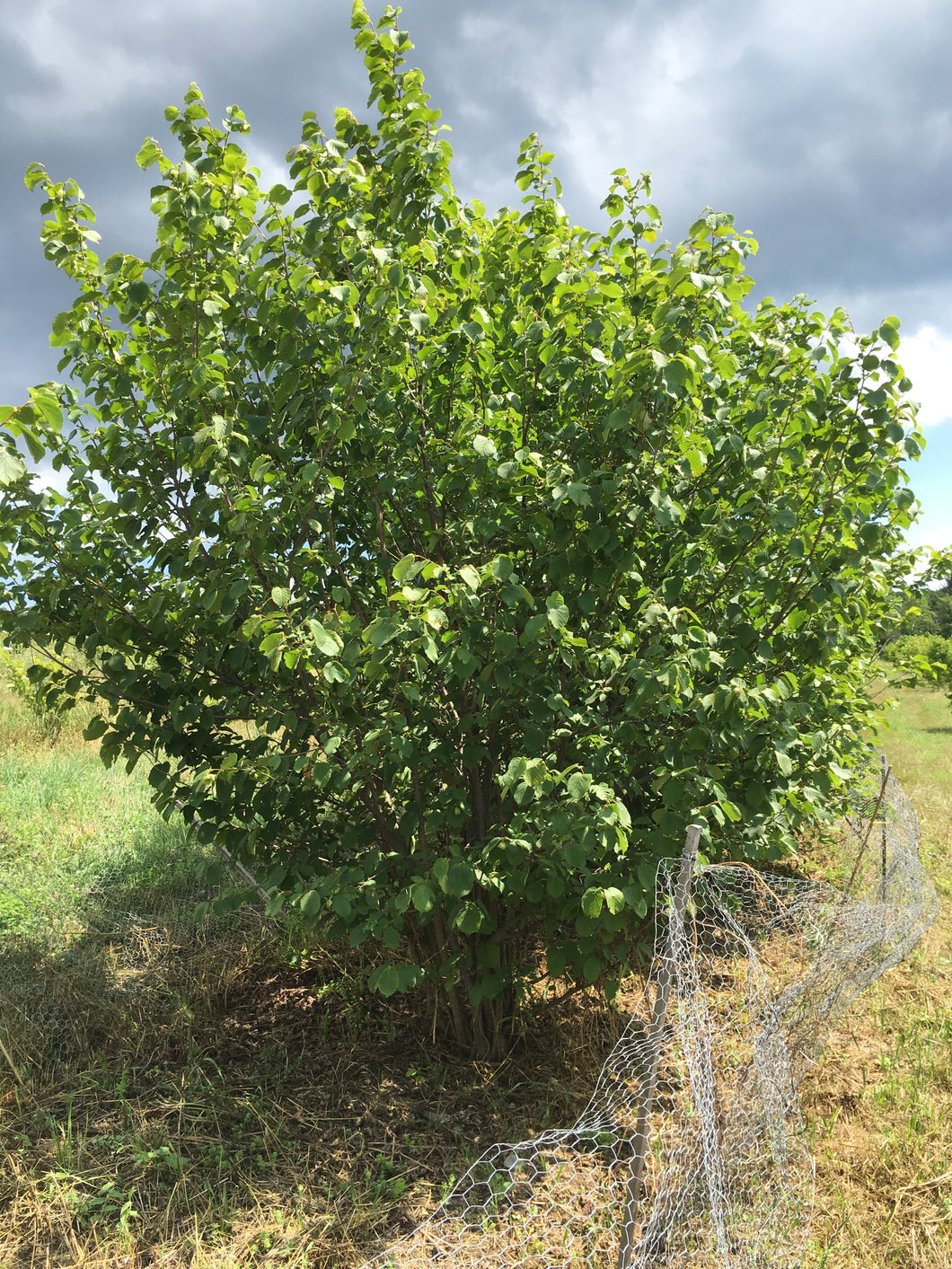 Geneva Hazel Cultivar - 1 year old - Bare Root- Spring Ship
Regular price $23.00 Sale
Geneva is from a breeding program from Cornell it is a cross of C. americana 'Rush' x C. avellana 'Red Lambert' developed at the NY Agricultural Experiment Station in the early 1900s and was named NY398.  The nuts from the mother tree are round with a point at the bottom.   The nuts are well filled and the nuts fall free to enable harvesting. Nuts are 43% kernel with medium thickness shell. Nut weight ranges averages from 0.8 to 1.0 grams depending on location.
Geneva grows upright with to 10+ feet tall at maturity and about 8 feet wide in bush form at 25 years of age.  If grown as a single stem tree it will be 14 feet and similar width depending on pruning.
It has S-alleles 15 and 23 with S15 expressed in the pollen, and blooms in mid-season. Pollen compatible with Grand Traverse, NITKA and The Beast.
This tree is a very good producer in our field most years and very blight resistant (immune so far) after over 20 years.     Good for Zone 5b and warmer.  
Please follow planting instructions. Please see our Blog page on cultivar information to learn more Here.
 For orchard design please see the latest version of the "The Hazelnut and Chestnut Handbook" by Jeff and Dawn Zarnowski. Also, Dr. Molnars winter newsletter here.
We ship mid-April to early June dormant and bare root.   We cannot ship to the west coast states.  We cannot ship to Canada for small orders.
Reminder a "cultivar" is a clone of the parent tree and performs just like the parent as it is the one and same genetics.  Whereas, "seedlings" are just like children, it inherits traits from both parents and what traits are expressed we learn as it matures.