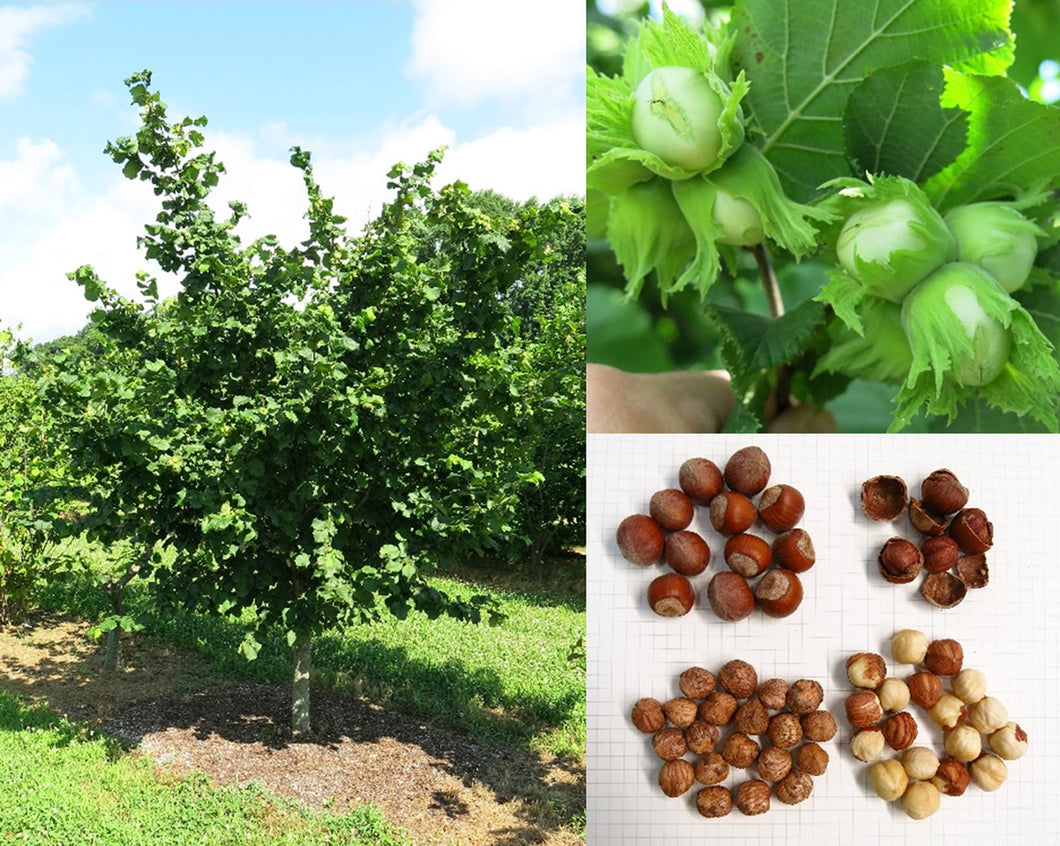 Somerset Hazelnut Cultivar - Bare Root- Fall ship
Regular price $24.00 Sale
Somerset is from Rutgers University under the auspices of Dr. Molnar and is patented with Patent No. PP32,494 issued on November 24, 2020
High yielding tree with small to medium size, round kernels with moderately good blanching, making it suitable for a variety of confectionary and baked good applications as well as for direct eating especially when roasted.
Has notably thin shells and tends to produce good crops even on young trees.
Compact tree with a slightly spreading growth habit that reaches about two thirds the size of 'Raritan' at maturity.
Trees at 15 years can reach 15 feet tall.
Has notably dark green leaves that are slightly crinkled making it distinguishable from the other cultivars.
Carries an EFB resistance gene from the Spanish cultivar 'Ratoli' that has shown excellent protection from the causal fungus.
No fungicide sprays are expected to be needed for production although regular scouting for cankers and pruning off infected branches, if ever present, is highly recommended.
'Somerset' nuts have an attractive dark brown shell and a majority (>85%) drop free from the husk and fall cleanly at maturity.
'Somerset' nuts typically fall in the second half of September in New Jersey along with 'Raritan'.
Regarding pollination, 'Somerset' has S-alleles 3 and 10 with S3 expressed in the pollen, and it blooms in early to mid-season in New Jersey.
Somerset is good for USDA Zones 6b and warmer.   The nut is good size with 1.1 gram and an excellent 55% kernel.
Trees are tissue cultured and can range from 5" to 20" tall.  Please follow planting instructions. Please see our Blog page on cultivar information to learn more Here.
 For orchard design please see the latest version of the "The Hazelnut and Chestnut Handbook" by Jeff and Dawn Zarnowski. Also, Dr. Molnars winter newsletter here.
We ship Mid-October to Mid-November.   We cannot ship to the west coast states.  We cannot ship to Canada for small orders.
Reminder a "cultivar" is a clone of the parent tree and performs just like the parent as it is the one and same genetics.  Whereas, "seedlings" are just like children, it inherits traits from both parents and what traits are expressed we learn as it matures.
Plants with a patent or a PPAF (Plant Patent Applied For) asexual reproduction is prohibited.
For tax exempt orders please email info@znutty.com with the desired quantity and your ship too address.  We give discounts for quantity orders.    Pricing already includes Royalty cost.